Product Description
Autel MaxiTPMS ITS600E Upgrade of TS408/TS501/TS508/TS601 TPMS scanners
Tire pressure placard value reset, Read/Clear TPMS system codes & view live data
Autel MaxiTPMS ITS600E TPMS Relearn Tools TPMS Programming Tool
Product Introduction:
Based on Android OS, the 2021 version ITS600E TPMS tool not only has the essential TPMS sensor programming, sensor relearning, sensor activating functions but also added user-friendly tire functions, quick vehicle identification, TPMS module retrofitting, etc. There is no doubt that Autel ITS600E is your reliable helper and professional doctor.
The MaxiTPMS ITS600E is a wireless, touchscreen Android-based tablet that features a 5.5-inch color display and a Bluetooth vehicle communication interface (VCI). It is compatible with U.S, Asian and European TPMS-equipped vehicles.
Additionally, it provides DOT number scan, tire expiration notice and access to recall lookup. The ITS600E is compatible with TBE200/TBE100(sold separately) tire tread & brake disc wear analysis tool. By providing an extensive series of tire-related features and functions, ITS600E is your ideal choice to complete TPMS and tire health work.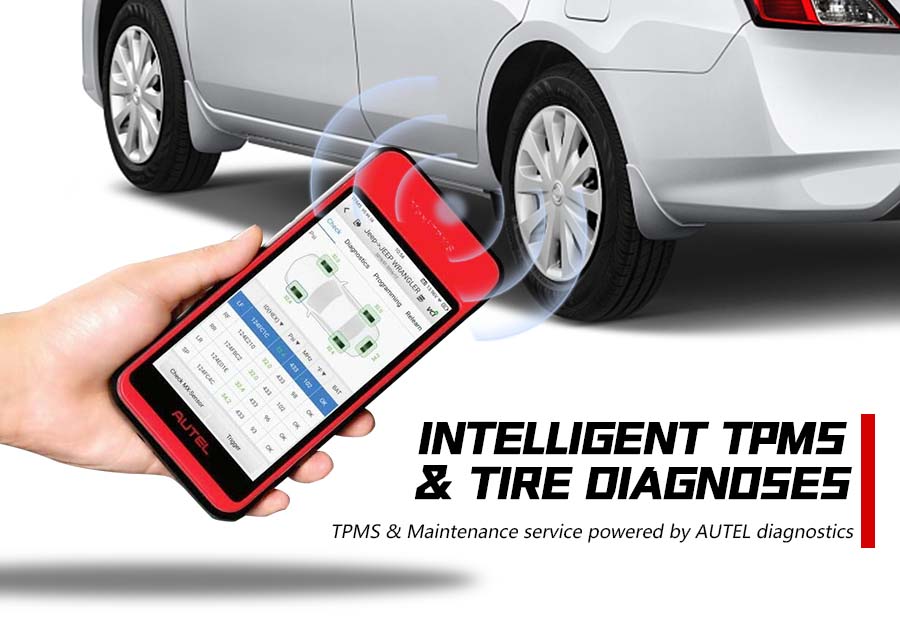 Product Features:
• Activates, reads and relearns all known sensors
• Enhanced, at-a-glance diagnostics status screen
• Fast OBDII relearn for most vehicles
• Program MX-Sensors to replace 99% of OE sensors
• Copy by OBD sensor programming for faster service
• Four MX-Sensor program modes; batch program up to 20 MX-Sensors
• Includes wireless Bluetooth vehicle communication interface (VCI)
• Tire pressure placard value reset
• Read/Clear TPMS system codes & view live data
• Support 14 Languages: English, French, German, Spanish, Portuguese, Dutch, Polish, Swedish, Korean, Russian, Italian, Japanese, Hungarian, Czech. (Please contact us if you want to change the language.)
Product Functions:
4 Programming Options: Copy by Activation, Copy by OBD, Manual Input, and Auto Create
4 Common Used Reset Functions: Oil Reset, EPB Reset, BMS Reset, SAS Reset.
3 Relearn Methods: OBD Relearn, Automatic Relearn, and Stationary Relearn.
3 Quick Vehicle Identification Ways: Auto VIN, Scan License, VIN Scan.
Activating: Trigger all the 315/433MHz TPMS sensors and read sensor information.
Compatible with American, Asian, and European vehicles with TPMS system.
Expanded TPMS Functions: ITS600E diagnostic scanner also provides DOT number scan, tire expiration notice, tire recall, tire tread & brake disc wear detection.(Work together with MaxiTPMS TBE200E/TBE100E).
TPMS Diagnostics: Scan TPMS ECU modules, locate vehicle problems and recover normal performance.
Autel ITS600E= TPMS Tool + Diagnostic Scanner
ITS600E diagnostic scanner is specially designed with 4 commonly used diagnostic functions to provide quick access to the vehicle systems for various scheduled reset and maintenance tasks. ITS600E relearn tool innovates the design of configuring the diagnostic function on the tire pressure tool and performs Oil reset, EPB, BMS, and SAS Calibration.
Oil Reset: Reset the oil life system and turn off the oil light after replacing the oil or oil filter to start a new cycle.
EPB Reset: Maintain the electronic braking system safely and effectively by deactivating and activating the brake control system, setting brakes after disc or pad replacement, etc.
BMS Reset: Re-match the control module and motoring sensor for battery detecting more accurately, clear original low battery information, and prevent the related control module from detecting false information.
SAS Calibration Reset: Calibrate the steering angle after replacing the steering angle position sensor and the mechanical parts of the steering system, etc. Stores the current steering wheel position as the straight-ahead position in the steering angle sensor and clear fault memory.
Quick Vehicle Identification
ITS600E TPMS tool couples with 3 quick and convenient methods available for acquiring VIN information to finish vehicle identification:
Auto VIN Detect, Scan License, and Scan VIN. This technology greatly reduces the diagnostic time and brings convenience for users. If you cannot find the VIN or the camera cannot successfully identify the VIN/license number, you can manually select vehicle make, model, and year to complete vehicle identification.
Auto VIN Detect: Automatically acquire vehicle information and identify the application electronically via the OBDII Diagnostic Port.
Scan License: Open the camera and scan the license number to enter the identification page, easy and useful.
Scan VIN: Scan the vehicle's VIN or Barcode/QR code directly to get information (vehicle make, model, year, etc.)
Expanded Tire Service
DOT
Quick & Easy Tire DOT Number Scan Tire Expiration Notice Tire Recall Lookup
Tread Depth & Brake Disc Wear
Precise laser measurement of tread depth & brake disc wear
Product Comparison:
Autel MaxiTPMS ITS600E is the upgrade of TS408/TS501/TS508/TS601 TPMS scanners. When it comes to TPMS functions, ITS600E has the same as the TS608, but better in UI design and more details (like tire functions, vehicle scanning, reset functions).
Product Specifications:
Recommended Use
Indoor
Operating System
Android™ 9.0
Processor
Quad-core processor (1.5 GHz)
Memory
1GB RAM DDR4 & 64GB ROM
Display
5.5-inch LCD capacitive touchscreen with 1280x720 resolution
Connectivity
Wi-Fi/USB 2.0/Type C/BT
Sensors
Light sensor for brightness auto adjust
Audio input/output
Input: N/A, Output: Beep
Power and Battery
Charges via 5 V AC/DC power supply
3.8 V/5000 mAh lithium-polymer battery
Battery Charging Input
5 V/2 A
Power Consumption
600 mA (LCD on with default brightness, Wi-Fi on) @3.8 V
Operating Temp
-10 to 45°C(14 to 113°F)
Storage Temp
-20 to 60°C (-4 to 140°F)
Dimensions (W x H x D)
183.0 mm (7.2'') x 89.0 mm (3.5'') x 22.0 mm (0.87'')
Net Weight
368 g (0.8 lb.)
Protocols
ISO9141-2, ISO14230-2,ISO15765, K/L-Line, Flashing Code,
SAE-J1850 VPW, SAE-J1850PWM, ISO11898 (Highspeed, Middlespeed,
Lowspeed and Singlewire CAN, fault-tolerant CAN), SAE J2610,
GM UART,UART Echo Byte Protocol, Honda Diag-H Protocol, TP2.0, TP1.66
Package Includes:
1pc x Main Unit
1pc x MaxiVCI V200
1pc x Power Adapter
1pc x Type C USB Cable
1pc x Hex Key
1pc x Quick Reference Guide
1pc x Packing List
1pc x Carrying Case
Shipping method and delivery time:US, UK ,RU Warehouse:
2-4 working days. We have stocked up hot sale items in US, UK ,RU Warehouse, Fast Delivery No Tax. But if overseas warehouse is sold out,we will send from Hongkong.
Ship From UK, No Tax
Ship From US, No Tax
Ship From EU, No Tax
DHL Shipping
: 2-4 working days. Usually we declare lower value on DHL invoice. If your address is remote area for DHL, customer will need to pay remote cost about 35USD or ship by EMS or YANWEN. Please leave message if you have any special requirement.
Yanwen Express:
5-10 working days. No Tax or remote cost for European Countries.
Top 10 reasons to buy from carobdtool.com website
1.Our website is 12 years old, and always online.
2.We are professional with these tools and a reliable company.
3.There are professional engineers on our team.
4.We have our own manufacturer.
5.Fast delivery
6.Many customers buy from us, just rest assured to buy in our webiste.
7.Items are very good quality.
8.We package our items safely and securely.
9.Safe purchase, and your privacy is secure.
10.We provide one year warranty and free technical services.

Contact information:
Email:
sales@CarOBDtool.com
Whatsapp:
+8618223445829
WeChat: seven424424
Whatsapp Group:
LLnn0gcToGG2UjpHuZmcpG